Artificial Intelligence - State of AI
Staying on top of the developments in the field of AI is a difficult task if you don't know how to interpret the flood of content streaming in on a daily basis from sources across all industries. Companies are investing heavily in marketing and are publishing a multitude of research studies, claims and services – obviously with the goal of creating ever-growing revenue streams.
Whilst we are still at the ANI level, algorithms in siloed areas process data where humans must help with modelling and labeling. The real AI will show its first moments on the next tier – the AGI – where first approaches from scientists are already in a deeper discussion and tested using neuromorphic systems.
AI teams
The field of "ANI" topics have reached an astonishing level of differentiation and our interdisciplinary AI teams at Wildstyle Network is constantly working to stay ahead of the curve with regards to industry updates.
Designing digital strategy with AI
Our digital strategy & consulting team and solution architects support your business to achieve set goals, choosing the right value proposition and scalable technology stack among the diversity of opportunities. We follow a lean model – constantly learning, reiterating, and growing.
Building human machine interfaces
Every AI and content output needs an effective and comfortable user interface experience. Through 360° XR, image recognition with object detection, audio and gesture control, we help next-gen products maximize their market diffusion to reach their customers.
Developing products with AI
Beside developing and maintaining own products like JARVIS, evaluating tech research with rapid prototyping is beneficial to proof concepts and collects advanced state-of-the-art know-how.





Stay current – Get AI trends 2019
In collaboration with our interdisciplinary AI teams at Wildstyle Network, we will publish a series of articles sharing our unique and up to date perspective on the latest trends regarding the complexities of our technological future. Every article will provide an overview and summary of select AI-related topics.
Request our 2019 AI trendbook
Artificial Intelligence in automotive conference 2019
OEMs, suppliers and digital companies on the way to intelligent mobility
This year's "Handelsblatt AI in Automotive" conference, held on December 3rd and 4th, 2019 in Munich, will especially promote "AI Made in Germany". Additionally, based on practical examples, the implementation of successful AI projects in mobility will be explained.
More about the conference
Chairman automotive conference 2019
Steve Nitzschner
Our Co-CEO and founder, Steve Nitzschner, was chosen as the chairman for this year's CTI conference "AI in Automotive", giving him the opportunity to share his expertise in the field of artificial intelligence.
A greeting from the chairman
Cooperation and product development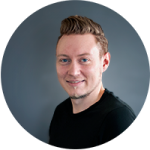 "In the past, reflecting human intelligence in the first chess game was called AI. Nowadays, when I look behind the scenes, even an excel formula claims to be AI when it gets wrapped as a service."