Iconic experiences need scalable digital ecosystems
We are one of the few digital creative companies that provide clients with hybrid teams on an international scale
Wildstyle Network is a partnership that hosts all business critical services and independently cooperates closely with global technology vendors. When we started our mission during the Dot Com crisis in 2002, we quickly learned how the
combination of scalable digital architectures, business modeling, design and coding excellence will separate the sustainably successful from the old economy. Wildstyle Network's venture fund as well as owned & operated software products fuel
the technical experience modern companies need to succeed in automotive, consumer, financial or any other challenging industry.
~ Ralf Halgasch, Digital Director
E2E data ecosystem
Connected api driven systems deliver everything-2-everything data management
Siloed data creates expensive gaps. Learn what it means that all data across the enterprise is connected into, and visible through a central location with context and interrelationships. Exposing data even build new services and platforms.
Enterprise Platform CMS
Content globally delivered, at scale and secure
Accelerate website building with our enterprise-grade Drupal Distribution: We created a cost-efficient, high-performance, secure system to spin of multiple sites with a few clicks. The modular approach and API-driven data design makes it a perfect place for any type of content and media.
Case Study: Migrate to Drupal
Lead management
CRM in the marketing tech stack
A functional CRM solution sits right at the heart of a digital ecosystem. We partner with leading providers like Hubspot, Salesforce and Adobe to get actionable insights and predictive analytics to identify business opportunities.
Request CRM sample architecture
Personalization engine
Customized digital experiences
Our experiences with multimillion user experiences has shown our teams the single truth of personalization in websites, mobile applications and other digital experiences.
The evolution of the software architecture stack
Today's software architecture demands call for a greater change. We are in a phase where data is intelligent, empowers modern tailored use-cases and supports improved decision-making based on state of the art big data analytical algorithms. The right strategy combining API driven systems with AI services and exchange mechanisms allows optimizing the companies' workflows and maximizing the output.
Personalization – Our latest trending tech trend
Our toolbox to scale our client's tech stack with efficiency & security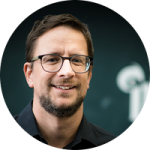 "Our corporate clients demand digital change. We answer with digital strategies and competent hybrid teams that revamp their established systems."